Did you know? Despite their short life span, insects can multiply rapidly. Normally, nature creates a balance between insects, natural predators and food supply. But if something - like a change in the weather pattern - happens to change that balance, then insect populations increase and may cause extensive damage. Insect damage will be particularly severe in thin, dry, or weed-infested lawns.
An Essential Step: Diagnosis
Weed Man Cary, NC's Surface Insect Control should begin once the early signs of injury are observed, or when significant numbers of insects are found on the lawn. Since some insects can only be controlled at certain times during their life cycles, it is essential to know:

1. The insect responsible for the damage;
2. The life cycle of that insect;
3. The level of infestation.
If left unchecked, turf insects such as Chinch Bugs, Sod Webworms and Cutworms can cause considerable damage to your lawn. Weed Man's Surface Insect Control begins with the identification of the insect causing damage to the lawn. Because some insects can only be controlled at certain times during their life cycles, Weed Man Lawn Care technicians are trained to identify the insect responsible for the damage, the specific life cycle of that insect and the exact level of infestation.


Weed Man employees are carefully trained to diagnose insect damage in your region. This knowledge is parlayed into a customized program that is applied only when and where needed by licensed, trained professionals, as part of Weed Man's IPM-based approach.
Applications may be necessary when damage history is apparent and/or threshold infestations have threatened the overall health of the lawn. After watering in treatment, people and pets may play on the lawn after 24 hours or when dry.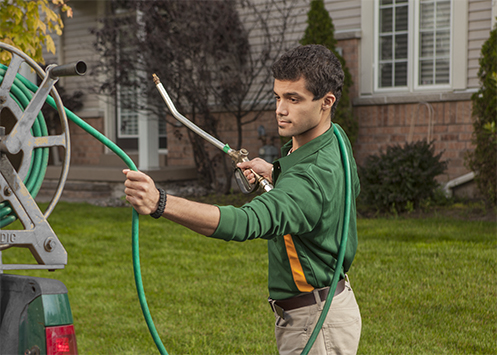 Your Health & Safety Come First
Weed Man uses only products for use on home lawns. They are most safely applied in the capable hands of a trained professional, like your Weed Man technician.

Studies show that Insect Control products tend to stay in the thatch layer of the lawn, where harmful turf insects feed. After 24 hours, less than .3% of the product can be dislodged from the lawn and there is little movement of products into the root and soil zones.
Have questions? Weed Man Cary, NC is here to help! Contact your local franchise for a free consultation. Weed Man will diagnose the problem and set up the proper program.